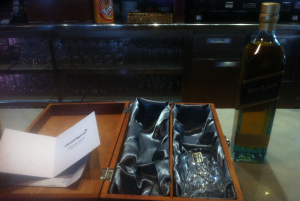 This Christmas I've received a gift from CloudSigma.
It was a very cool detail.
They sent me a very good Scottish whisky, with a beautiful hand made crystal glass, packed in a nice wood case.
It was really a success because I'm a big fan of Scotland and I travel there so often as I can, so it was a very nice surprise having this present from there.
I don't drink alcohol usually but I celebrated with my family and later the team contributing with tests to the project. 🙂
I'm proud to be helping them to benchmark a new more powerful hardware platform, with even less performance loss due to virtualization by the hypervisor, before public release.
Big thanks to CloudSigma for their general niceness and the specifically coolness in this case. 🙂