The new Amazon c3.8xlarge based on Intel(R) Xeon(R) CPU E5-2680 v2 @ 2.80GHz and SSD has been added. Is the most powerful instance tested to the date, beating Cloudsigma 37 Cores/80 Ghz by a little (although CloudSigma is much more cheaper).
The cool thing of c3.8xlarge comparing to cc2.8xlarge is that the first is not a Cluster like the last, so you can use a standard Linux distribution, not the specially cluster distributions.
In a graphic (more CMIPS means more CPU+RAM Speed power, so more is better):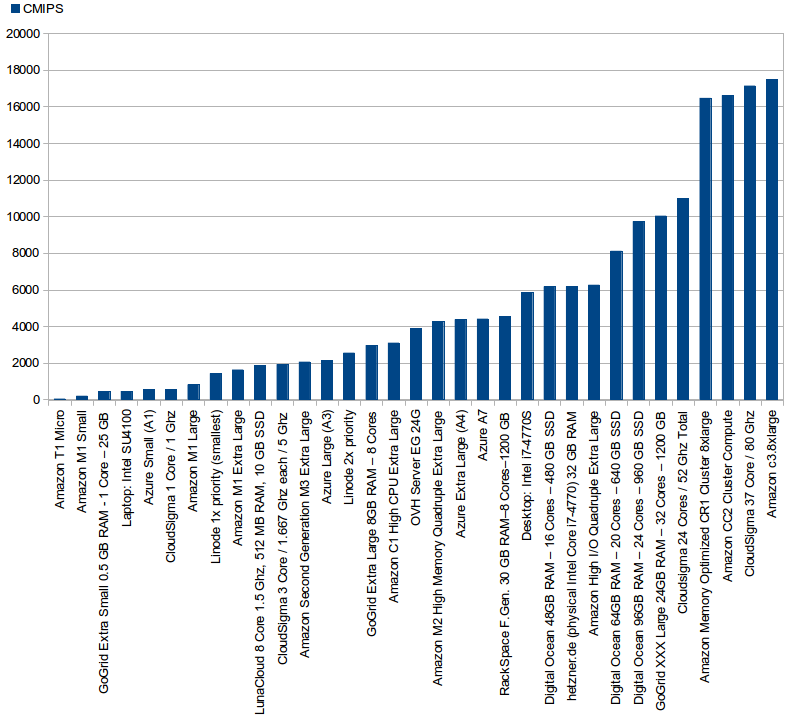 Prices for Amazon have been updated, only m3.xlarge (SSD) changed passing from $0.5 USD/hour to $0.45 USD/hour.
http://aws.amazon.com/ec2/pricing/
Prices for Azure have been reviewed but did not change since last update on 2013.
http://www.windowsazure.com/en-us/pricing/calculator/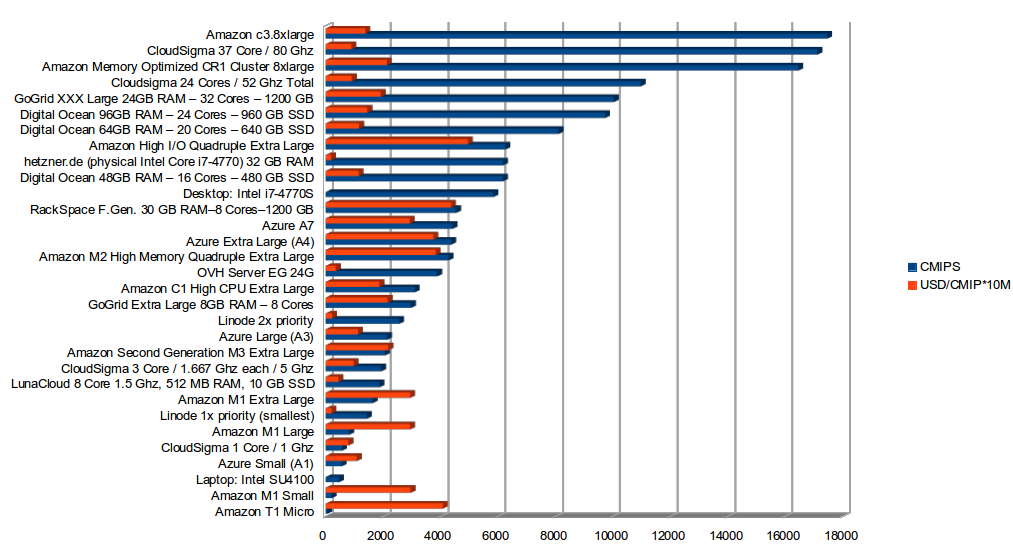 Detailed results:
| Type of Service | Provider | Name of the product | Codename | Zone | Processor | Ghz Processor | Cores (from htop) | RAM (GB) | Os tested | CMIPS | Execution time (seconds) | USD /hour | USD /month |
| --- | --- | --- | --- | --- | --- | --- | --- | --- | --- | --- | --- | --- | --- |
| Cloud | | T1 Micro | t1.micro | US East | Intel Xeon E5-2650 | 2 | 1 | 0.613 | Ubuntu Server 13.04 64 bits | 49 | 20,036.7 | $0.02 | $14.40 |
| Cloud | | M1 Small | m1.small | US East | Intel Xeon E5-2650 | 2 | 1 | 1.6 | Ubuntu Server 13.04 64 bits | 203 | 4,909.89 | $0.06 | $43.20 |
| Cloud | GoGrid | Extra Small (512 MB) | Extra Small | US-East-1 | Intel Xeon E5520 | 2.27 | 1 | 0.5 | Ubuntu Server 12.04 64 bits | 441 | 2,265.14 | $0.04 | $18.13 |
| Physical (laptop) | | | | | Intel SU4100 | 1.4 | 2 | 4 | Ubuntu Desktop 12.04 64 bits | 460 | 2,170.32 | | |
| Cloud | CloudSigma | 1 Core / 1 Ghz | 1 Core / 1 Ghz | Zurich (Europe) | Amd Opteron 6380 | 2.5 Ghz to 3.4 Ghz with Turbo | 1 | 1 | Ubuntu Server 12.04.3 64 bits | 565 to 440 | 1,800 | $0.04475 | $32,22 |
| Cloud | | M1 Large | m1.large | US East | Intel Xeon E5-2650 | 2 | 2 | 7.5 | Ubuntu 13.04 64 bits | 817 | 1,223.67 | $0.24 | $172.80 |
| Cloud | Linode | 1x priority (smallest) | 1x priority | London | Intel Xeon E5-2670 | 2.6 | 8 | 1 | Ubuntu Server 12.04 64 bits | 1,427 | 700.348 | n/a | $20 |
| Cloud | | M1 Extra Large | m1.xlarge | US East | Intel Xeon E5-2650 | 2 | 4 | 15 | Ubuntu 13.04 64 bits | 1,635 | 606.6 | $0.48 | $345.60 |
| Cloud | LunaCloud | 8 Core 1.5 Ghz, 512 MB RAM, 10 GB SSD | | CH | | 1.5 | 8 | 0.5 | Ubuntu 13.10 64 bits | 1,859 | 537.64 | $0.0187 | $58.87 |
| Cloud | CloudSigma | 3 Core / 1,667 Ghz each / 5 Ghz Total | 3 Core / 1,667 Ghz each / 5 Ghz Total | Zurich (Europe) | Amd Opteron 6380 | 2.5 Ghz to 3.4 Ghz with Turbo | 3 | 1 | Ubuntu Server 13.10 64 bits | 1928 to 1675 | 518.64 | $0.1875 | $135 |
| Cloud | | M3 Extra Large | m3.xlarge | US East | Intel Xeon E5-2670 | 2.6 | 4 | 15 | Ubuntu 13.04 64 bits | 2,065 | 484.1 | $0.45 | $324 |
| Cloud | Linode | 2x priority | 2x priority | Dallas, Texas, US | Intel Xeon E5-2670 | 2.6 | | 2 | Ubuntu Server 12.04 64 bits | 2,556 | 391.19 | n/a | $40 |
| Cloud | GoGrid | Extra Large (8GB) | Extra Large | US-East-1 | Intel Xeon E5520 | 2.27 | 8 | 8 | Ubuntu Server 12.04 64 bits | 2,965 | 327.226 | $0.64 | $290 |
| Cloud | | C1 High CPU Extra Large | c1.xlarge | US East | Intel Xeon E5506 | 2.13 | 8 | 7 | Ubuntu Server 13.04 64 bits | 3,101 | 322.39 | $0.58 | $417.60 |
| Dedicated | OVH | Server EG 24G | EG 24G | France | Intel Xeon W3530 | 2.8 | 8 | 24 | Ubuntu Server 13.04 64 bits | 3,881 | 257.01 | n/a | $99 |
| Cloud | | M2 High Memory Quadruple Extra Large | m2.4xlarge | US East | Intel Xeon E5-2665 | 2.4 | 8 | 68.4 | Ubuntu Server 13.04 64 bits | 4,281 | 233.545 | $1.64 | $1,180.80 |
| Cloud | Rackspace | RackSpace First Generation 30 GB RAM – 8 Cores – 1200 GB | | US | Quad-Core AMD Opteron(tm) Processor 2374 HE | 2.2 | 8 | 30 | Ubuntu Server 12.04 64 bits | 4,539 | 220.89 | $1.98 | $1,425.60 |
| Physical (desktop workstation) | | | | | Intel Core i7-4770S | 3.1 (to 3.9 with turbo) | 8 | 32 | Ubuntu Desktop 13.04 64 bits | 5,842 | 171.56 | | |
| Cloud | Digital Ocean | Digital Ocean 48GB RAM – 16 Cores – 480 GB SSD | | Amsterdam 1 | QEMU Virtual CPU version 1.0 | | 16 | 48 | Ubuntu Server 13.04 64 bits | 6,172 | 161.996 | $0.705 | $480 |
| Cloud | | High I/O Quadruple Extra Large | hi1.4xlarge | US East | Intel Xeon E5620 | 2.4 | 16 | 60.5 | Ubuntu Server 13.04 64 bits | 6,263 | 159.65 | $3.1 | $2,232 |
| Cloud | Digital Ocean | Digital Ocean 64GB RAM – 20 Cores – 640 GB SSD | | Amsterdam 1 | QEMU Virtual CPU version 1.0 | | 20 | 64 | Ubuntu Server 13.04 64 bits | 8,116 | 123.2 | $0.941 | $640 |
| Cloud | Digital Ocean | Digital Ocean 96GB RAM – 24 Cores – 960 GB SSD | | New York 2 | QEMU Virtual CPU version 1.0 | | 24 | 96 | Ubuntu Server 13.04 64 bits | 9,733 | 102.743 | $1.411 | $960 |
| Cloud | GoGrid | XXX Large (24GB) | XXX Large | US-East-1 | Intel Xeon X5650 | 2.67 | 32 | 24 | Ubuntu Server 12.04 64 bits | 10,037 | 99.6226 | $1.92 | $870 |
| Cloud | CloudSigma | 24 Core / 52 Ghz Total | 24 Core / 52 Ghz Total | Zurich (Europe) | Amd Opteron 6380 | 2.5 Ghz to 3.4 Ghz with Turbo | 24 | 1 | Ubuntu Server 13.10 64 bits | 10979 to 8530 | 98 | $0.9975 | $718.20 |
| Cloud | | Memory Optimized CR1 Cluster 8xlarge | cr1.8xlarge | US East | Intel Xeon E5-2670 | 2.6 | 32 | 244 | Ubuntu Server 13.04 64 bits for HVM instances (Cluster) | 16,468 | 60.721 | $3.5 | $2,520 |
| Cloud | | Compute Optimized CC2 Cluster 8xlarge | cc2.8xlarge | US East | Intel Xeon E5-2670 | 2.6 | 32 | 60.5 | Ubuntu Server 13.04 64 bits for HVM instances (Cluster) | 16,608 | 60.21 | $2.4 | $1,728 |
| Cloud | CloudSigma | 37 Core / 2.16 Ghz each / 80 Ghz Total | 37 Core / 2.16 Ghz each / 80 Ghz Total | Zurich (Europe) | Amd Opteron 6380 | 2.5 Ghz to 3.4 Ghz with Turbo | 37 | 1 | Ubuntu Server 13.10 64 bits | 17136 to 8539 | 58 | $1.5195 | $1,094.10 |
| Cloud | | Compute Optimized C3 8xlarge | c3.8xlarge | US East | Intel Xeon E5-2680 | 2.8 | 32 | 60 | Ubuntu Server 13.10 64 bits for HVM instances (Cluster) | 17,476 | 57.21 | $2.4 | $1,728 |